Muroran curry ramen
Of Morning Musume fame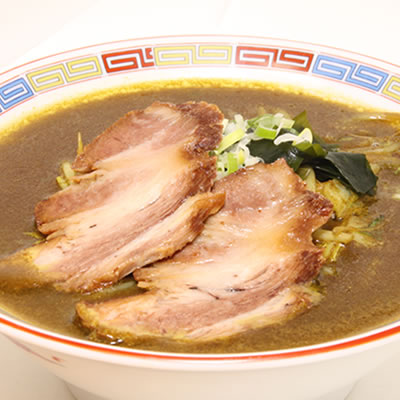 Muroran curry ramen refers to the ramen noodles offered by restaurant members of the Muroran Curry Ramen Coop, established in the cities of Muroran, Noboribetsu, Date and Toyako.
The most famous of these restaurants is "Aji no Daio" in Mururoran city.
Although the dish is over 50 years old, it became known around Japan more recently when Natsumi Abe, a singer in the band "Morning Musume", said that if you were going to eat curry ramen, it should be from Aji no Daio. Her fans flocked to the restaurant and the dish shot to national fame.
Nowadays it has gained popularity overseas, with some international tours including the Muroran ramen experience in their itinerary.
Muroran ramen is characterized by its thick, wavy noodles made with Hokkaido flour and served in a unique soup blending sweet and spicy flavors.
Many people get hooked on this delicious dish after one mouthful so there may be a line, but how about visiting Aji no Daio if you come to Muroran?
協力企業:有限会社ハレルヤイズム
協賛企業:一般財団法人 日本ラーメン協会