Kameyama ramen
You've got to try it once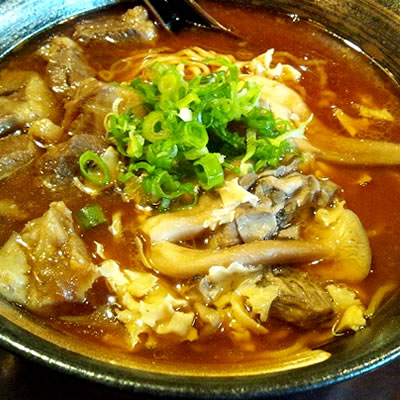 Starting in 2013, Mie Prefecture's Kameyama ramen is a relatively new ramen dish.
Taking out a B-grade (fast food) grand prix, the dish is famous throughout Japan and has its roots firmly in Mie prefecture.
It is made using produce from Mie and must also contain the relatively rare ingredients of oyster mushrooms, clustered shimeji (fried chicken mushrooms) and wood cauliflower mushrooms.
The noodles are made using Mie's "nishinokaori" brand flour, a high quality flour famous for its use in Mie's Ise udon.
The soup uses a blend of three types of miso made from soy beans, barley and rice which results in a richly flavored broth that mixes well with the noodles.
The Kameyama ramen served at the "Shiro-kuma Ramen Honten" restaurant in Kameyama are famous as a top-class miso ramen dish, with the perfect mix of sweet barley miso, richly flavored malted rice and chewy mushrooms.
協力企業:有限会社ハレルヤイズム
協賛企業:一般財団法人 日本ラーメン協会