Nagasaki champon
Nagasaki's famous dish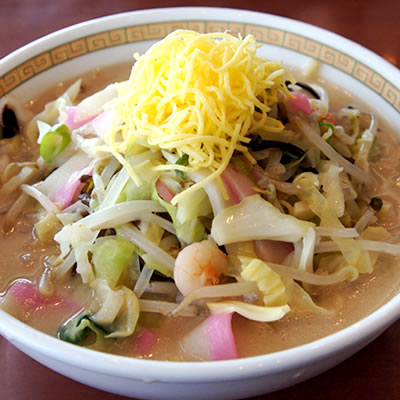 Nagasaki champon is a famous type of champon-style noodles.
The dish used to be called "shina udon" and is said to have been created by the owner of the first "Shikairo" restaurant in Japan (Shikairo is from Fujian Province in China). The owner created Nagasaki champon to provide Chinese exchange students in Japan with a cheap, delicious meal.
Nagasaki champon is characterized by a chicken based broth served with meat and seafood such as clams and prawns, as well as a large serve of vegetables.
It is popular with many as a cheap, filling, highly nutritious dish.
At the time of its creation it became well-known not only with Chinese exchange students, but other people as well.
Champon is characterized by its plentiful toppings but the contents differ between regions and stores.
It is best to check the restaurant menu first before you order.
協力企業:有限会社ハレルヤイズム
協賛企業:一般財団法人 日本ラーメン協会