Stamina ramen
A flavor loved by the locals of Ibaraki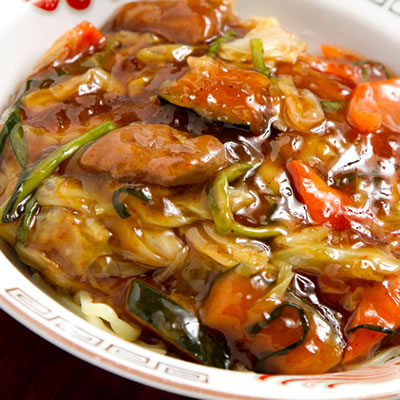 One of Ibaraki's oldest local ramen dishes is Ibaraki "stamina ramen".
With a flavor that goes back over 40 years, this is definitely a soul food for the people of Ibaraki.
The hot, thick, shoyu (soy sauce) based sauce covering chewy noodles will burn your tongue if you aren't careful,and let's not forget the toppings that will surprise anyone trying stamina ramen for the first time.
You'll find things like liver, cabbage or pumpkin and other ingredients not usually associated with ramen.
The strange thing is, they go perfectly with the unique, thick noodles of the dish.
If you want to try Ibaraki stamina ramen, we recommend the long standing Stamina Ramen Matsugoro restaurant in Mito city.
On its second generation of owners, the shop is welcoming to newcomers and delivers a widely popular version of Ibaraki stamina ramen.
協力企業:有限会社ハレルヤイズム
協賛企業:一般財団法人 日本ラーメン協会