Takayama ramen
Simple and delicious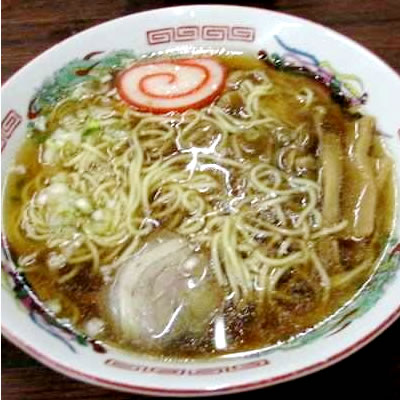 Also known as Hida ramen, Takayama ramen are the main type of ramen eaten in Takayama City in Gifu Prefecture.
Starting as Shina soba after the war, with a subsequent name change to "Chinese noodles", it has a history as a much-loved dish, but with the local ramen boom around 20 years ago, it was given the name Takayama ramen to clearly differentiate it from other types of ramen.
A simple dish compared to regular ramen, Takayama ramen is normally made with a broth of stock from chicken and vegetables, and mostly topped with shallots.
Using thin, wavy noodles, the addition of bonito stock lends a Japanese flavor to this simple meal.
If you're looking to try Takayama ramen, "Drive Station Itakura" is very popular.
Drive-in is an unusual style for eating ramen, but there is a factory on-site and the restaurant is renowned for the fresh noodles available there.
協力企業:有限会社ハレルヤイズム
協賛企業:一般財団法人 日本ラーメン協会