Tofu miso ramen
It came from miso soup!?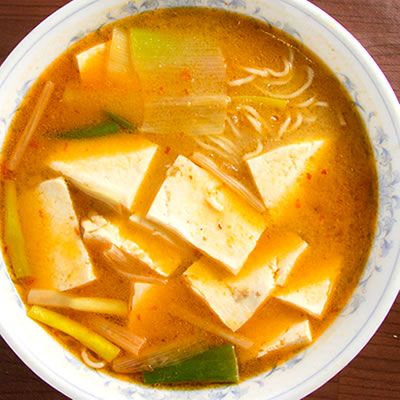 Tofu miso ramen is a local ramen dish that can be eaten around the north of Ibaraki Prefecture.
As per the name, this ramen has the rare addition of tofu as a topping, and it is said that miso soup was the impetus to creating it.
The story goes that it was thought that a delicious miso soup with tofu and shallots would make an equally delicious addition to ramen, and the dish is now a local specialty in Ibaraki.
Said to be the birthplace of tofu miso ramen, Chugoku-hanten is one of the most famous restaurants serving the dish.
Very popular with the locals, the ramen sold at Chugoku-hanten is not overly spicy and so can be enjoyed by children and adults alike.
Make sure you check it out if you happen to come to Ibaraki.
There are also many other restaurants that offer tofu miso ramen, so it is worth taking a look if you see a ramen restaurant.
協力企業:有限会社ハレルヤイズム
協賛企業:一般財団法人 日本ラーメン協会