Tokushima ramen
3 different varieties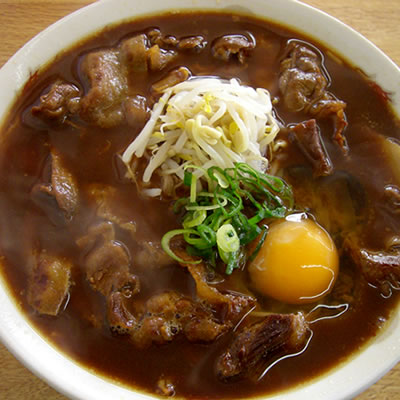 Tokushima ramen is a well-known local ramen dish from eastern Tokushima Prefecture.
In Tokushima itself, the dish is known simply as "soba" (noodles) or "chuuka soba" (Chinese noodles).
Tokushima ramen became known throughout Japan in 1999 when a ramen store from Tokushima city had a store for a limited period of time in the Shinyokohama Ramen Museum.
Tokushima ramen can be divided into three types: brown, yellow and white.
It originally began with white but spread to yellow and brown.
Brown ramen uses a strong soy sauce or tamari soy sauce (a type of rich soy sauce) to add flavor to a tonkotsu (pork bone) broth.
Yellow ramen is flavored with chicken and vegetable stock, while white uses a light soy sauce to flavor a tonkotsu broth.
All three types are known for being delicious ramen dishes.
協力企業:有限会社ハレルヤイズム
協賛企業:一般財団法人 日本ラーメン協会