Katsuura-style tantan-men
One to try by the sea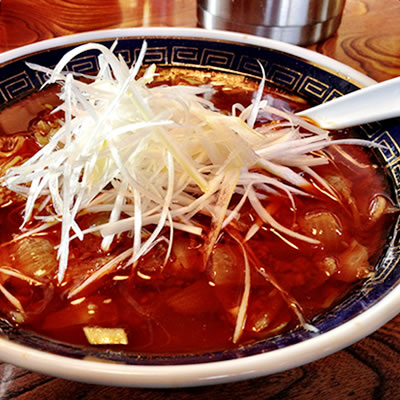 Katsuura-style tantan-men is a unique noodle dish served by restaurants around Katsuura City in Chiba Prefecture.
This long-standing, much-loved dish was originally created to warm the fishermen and women divers who worked in the sea adjacent to Katsuura.
With a shoyu (soy sauce) base, Katsuura-style tantan-men is unique for its toppings of pork and onion fried with chili in chili oil - regular tantan-men doesn't use sesame oil.
"Ezawa" is a local restaurant known for being the first to serve authentic tantan-men.
You'll find yourself unable to forget the moreish flavor of the spicy soup, enhanced with onion, diced shallots and lots of crunchy Japanese leeks.
協力企業:有限会社ハレルヤイズム
協賛企業:一般財団法人 日本ラーメン協会