Nagahama ramen
The name for street stall ramen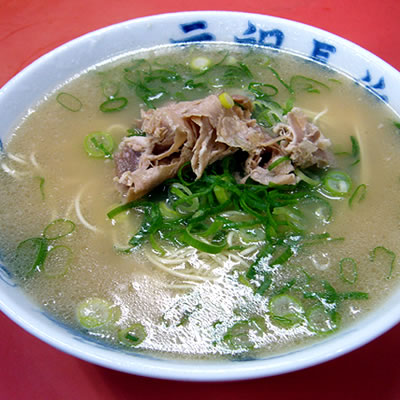 Nagahama ramen are characterized by their light soup and thin noodles.
It is said that Nagahama ramen began in the very first "Nagahama-ya" restaurant, but nowadays "Original Nagahama-ya Endorsed Tonkotsu Ramen" instant noodles are sold by food manufacturer Marutai.
Nagahama is also the birthplace of the "noodle refill" custom that Hakata ramen is famous for.
The ramen restaurants in Nagahama are outdoor street stalls, and the dish is also known as Hakata-Nagahama ramen.
Nagahama ramen has a number of unique characteristics.
It uses very thin noodles meaning they can be boiled quickly, and you can also order extra noodles just by themselves.
The richly flavored broth is also very popular, and as with Hakata ramen, you can specify the firmness of your noodles and the amount of lard topping the broth when you order.
Noodles can be ordered "yawa" (soft), "kata" (firm), "nama" (raw) or "kakiage" (fried) and when specifying the amount of lard you can order with words like "nashi" (none) and "beta" (covered).
協力企業:有限会社ハレルヤイズム
協賛企業:一般財団法人 日本ラーメン協会