Takeoka-style ramen
A rare ramen dish in Chiba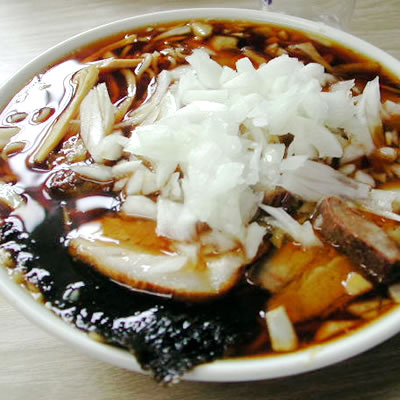 One of Chiba Prefecture's 3 main local ramen dishes is Takeoka-style ramen.
Originating in Futtsu City in Chiba, the ramen is characterized by its strong shoyu (soy sauce) broth which is almost black from meat juices, and its topping of onion chunks.
If you want to try Takeoka-style ramen, it may be a good idea hop between the two most authentic restaurants in the area.
"Umenoya" is one famous restaurant that enjoys regular media attention and often has a line up.
Umenoya serves up a broth made with the stock from boiled char sui pork and water, and uses dried noodles as oppose to raw.
Although it may not be the traditional style of ramen making, the restaurant enjoys a great reputation.
"Suzuya" is another restaurant which offers authentic Takeoka-style ramen as its main menu.
Served with thick char sui pork and a generous helping of Japanese leeks in the place of onion, Suzuya's ramen dishes are aromatic and extremely satisfying.
協力企業:有限会社ハレルヤイズム
協賛企業:一般財団法人 日本ラーメン協会